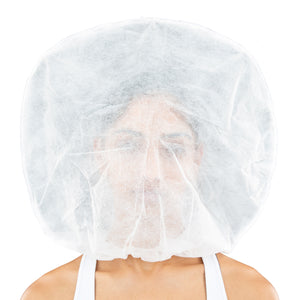 Highlights
Delicate wash
Wash in cold water
Air dry
About
Disposable Cosmetic Mask- Protects Face and Hair- Face Cover- Fashion- Try on- 100 PCS
Protects clothes from makeup stains. Prevents earrings from clinging onto clothes.
100 pcs/ Large, one-size head cover. Made to fit over most hairstyles including up-dos.
Great for businesses, bridal stores, boutiques, retail clothing stores to make available in dressing rooms. Reduces unnecessary cost for dry cleaning.
Perfect for special events such as proms, weddings and photo shoots.
Shipping & Returns
Items purchased from this site will be shipped by a third party courier. As a result, title and risk of loss for merchandise will pass to the courier.
Shipping addresses cannot be modified after you've submitted your order. If you need to update the shipping address and the item hasn't shipped yet, you'll need to request a cancellation and order again.
Orders can no longer be changed once they're shipped out.
Please email us at info@okatorofficial.com for any customer service inquiries.